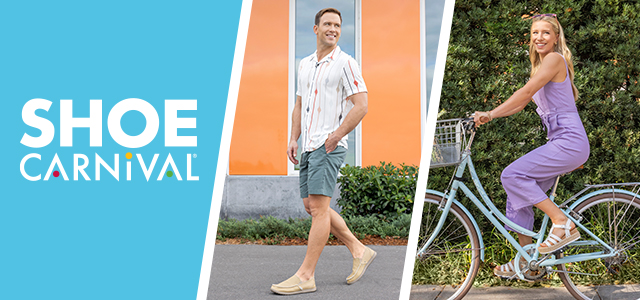 Shoe Stores near me in Morgantown
80 Colliers Crossing Morgantown, WV 26501

108 Matthew Drive Uniontown, PA 15401

462 Emily Drive Clarksburg, WV 26301
We're sorry, there are no stores within 50 miles of your search. Please try your search again or choose a location from below.
Shoe Carnival Stores in Morgantown, WV
Looking for shoes in Morgantown, WV? Get great prices on brand-name shoes for the whole family at Shoe Carnival.

For a unique shopping experience, check out any of the local Shoe Carnival shoe stores located in and around Morgantown, WV! Walk into any of our area stores, and you will find special in-store only limited-time sales being promoted over the microphone, alongside advertised regional and national sales. This allows our local shoe stores to bring Morgantown, WV shoppers awesome shoe sales for unbelievable prices!

If you're looking for edgy Nike basketball shoes for your little all-star, classic Converse Chuck Taylor sneakers for a loved one, or trendy adidas® sneakers as a treat for yourself, we've got you covered! Shoe Carnival carries a broad array of women's shoes, including women's boots, sandals, running shoes, flats, wedges, high heels, and more! We also offer a variety of men's shoes, from men's dress shoes to hiking boots.

Shoe Carnival believes in family, so we specialize in stocking wide selection of kids' shoes at affordable prices, for all ages and stages. Not only do we have kids' casual and dress shoes your little ones need for those growing feet, we also carry the brand-name sneakers and character-themed light up shoes your kids will adore. Plus, we offer handbags, backpacks, and other accessories to complete your new look.

Products and promotions in the Morgantown, WV shoe stores are changing all the time, so be sure to stop by today to find a surprise in store at a Shoe Carnival store near you!